In an audit, things typically start with some question marks for Krone's QA engineers. It's clear that there's an issue at hand, but it's now up to them to find the root of the problem. A tense situation, where performance is crucial. Here, ARO helped to significantly save time, and revealed what would have slipped through even trained eyes.
Krone is an agricultural machinery manufacturer, whose production, like many other sectors, is faced with constant change and increasingly complex products and configuration variants. This makes quality assurance a labour-intensive task at all stages of the production cycle.
Quality assurance starts as early as at the incoming goods receipt, before supplier components go into production. But although the total quality management strategy already sets high standards, its time- and labor-consuming process does not allow 100% control in such a complex production context, which means that fail cases might occur as late as during assembly. Incidents at that point in time become a challenge that needs to be overcome quickly, as there is an increased probability that such cases might cause production to halt until the issue is solved.
"When we find irregularities during assembly, production workflow is often severely disrupted or, worst case, might stand still until the error is found. At this point, things have to move really quickly." says Andreas Audick, lead quality engineer at Krone.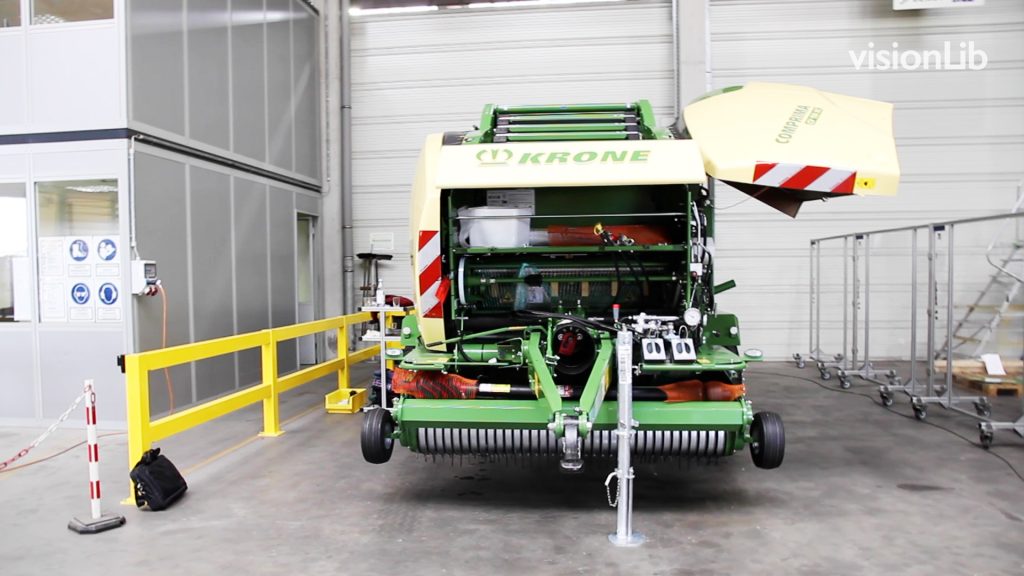 This is the reason why Krone's engineers have to deal with the task of searching for errors under immense time pressure. Often times there's a suspicion of what might have caused the issue, but the search itself comes close to a shot in the dark. Until, however, errors are eventually localized in an intense inspection process during an audit, where the entire machine, or particular parts of a current assembly, are compared and measured against their specification.
Once the issue is found, the engineers have to make sure whether they are dealing with a one-off issue, caused internally or by a supplier, or a general problem. If the latter is case, it's essential to swiftly notify suppliers or construction about the results, so future components can be manufactured differently.
So was case for a batch of balers, where its flaps did not reliably shut after the assembly of all necessary parts was finished. The engineers needed to find the cause and a solution as soon as possible.
Krone, who boarded VisionLib ARO's pilot program early, were looking for modern, more mobile inspection tools, in addition to what was used up until now. Having heard of augmented reality before, those responsible weren't sure about its capabilities and utility for their inspection specific, industrial use. Especially understanding tracking and the efforts needed to put AR into valuable application was uncertain in the beginning.
Testing ARO for a while, engineers eventually used it to inspect the batch of balers. It turned out that a bolt was misplaced, which led to the flaps not being able to close completely, due to a construction with too little leeway in some cases.
Visual augmented reality techniques and the auto-registration of the baler's inspected elements, made error localisation much faster and easier, while featuring precise measurements. And a digital-by-design process made reporting both, simple and quick, which enabled to apply changes at the root of the problem immediately.
Thanks to ARO, Krone not only identified the falsely placed bolt more quickly than before, but also made visible the sometimes inclined position of an entire substructure, which from time to time led to not too serious problems, but all too often caused trouble in further assembly.
"What really impressed us was that with the help of an augmented reality-enhanced inspection, we were able to work much faster than before, especially the time it took to prepare for the actual audit was greatly decreased. There is a huge potential, which is why we aim at using ARO on a regular basis." says Audick.
For us at VisionLib, the new ARO tools are a big step forward, as ARO is not a SDK, but a turnkey solution. Also in terms of deep tech, this is a step ahead for core tracking technologies. In common augmented reality, the camera scans environments or tracks objects. With ARO, the camera can see and detect changes, deviations or errors as well.
"Ever since our days at Fraunhofer, we believed in the potential of augmented reality in this application area. But hearing reports like the one from Krone is simply amazing", states Harald Wuest, co founder and CEO of Visometry – the company behind VisionLib and ARO – and continues: "We're both proud and happy that ARO, our new AR-powered inspection tools, enable Krone and others to improve quality-related tasks with means of spatial visualisations and computer vision in such valuable ways".
Krone is one of ARO's pilot users. If their story inspired you to become a pilot user as well or if you face similar challenges you want to change, don't hesitate to contact our solution team.