Tracking Solutions for Industrial & Enterprise Augmented Reality
Explore true object tracking for Mixed- and Augmented Reality apps and experience how it leverages XR's most essential business use cases.
For Tablets, Smartphones, HoloLens – works well with Unity3D.
VisionLib for Developers
Get the Tracking SDK for Untiy & start developing immeditaley.
NEW: Solution for Industries
Meet ARO: our new turnkey solution for AR-enhanced quality inspection, which enables companies to perform quality assurance 6x times faster.
#XR Object Tracking at Industrial Scale
Leverage Industrial AR with Model Tracking
The VisionLib Tracking Engine is used for what it can best: mixed and augmented reality tracking at industrial scale to power most essential industrial #XR use cases.
Its Model Tracking combines CAD with image processing and with highlight-features, such as Auto-Init or Multi-Object-Tracking, customers from around the globe use the SDK for a variety of business cases along the value chain: from prototyping & production, over maintenance & training, marketing & communications, up to automated inspection & quality control.
VisionLib's object tracking has become an essential cornerstone of AR-enhanced applications and platforms, and it is ideal for enterprise use-cases.
With features like Multi Object Tracking and State Detection, VisionLib is about to add ›camera-powered intelligence‹ to AR: it adds a whole new level and enables tracking-based Object Analysis.
Imagine an AR-assisted maintenance procedure, where the vision system checks whether or not a hood is open, a screw installed, or machine parts assembled.
Become early adopter to profit and shape innovative technology while it is developed. Or become partner/user and gain from innovative solutions to supplement or extend your current services
Precise & Reliably Robust – Unlike Many Others
Precision, to augment information right on point. Reliably robust, to cope typical tracking obstacles, like chaning lights and dynamic scenes: tracking at industrial scale.
Object Detection, 360° from any Angle
AutoInit brings 360 degrees object detection from different angles and powers up model tracking with AI: it liberates from an initial pose to start tracking. Now, track objects from any side, instanlty + immediately.
Multi Object Tracking – separately at the Same Time
Multi Model Tracking  enables you to track objects separately at the same time. So, when you move these objects freely in different directions, VisionLib will track them, once detected.
Advanced Industrial Tracking Features
Multi-View, (multi) camera-assisted real time measurements of physical objects based on their digital 3D data. Be it angles, points or lines – up to sub-millimeter accuracy. Learn more about our control services.
More to Come – Stay Informed
There are more events to this year, virtual and real: AWE Asia, Automatica and many more. Don't miss the chance to talk to our team and see latest results from our lab. Sign-up to our newsletter now.
AR-enhanced Maintenance or Training
Hands-free, AR-enhanced maintenance & training cases with HoloLens 2 and VisionLib deliver persistent augmented information layers while working.
VisionLib's Model Tracking enables HoloLens 2 to automatically register & track objects and pins information precisely on point.
AR-enhanced Object-to-Object Measurements
Core funcitonality in production and engineering, enhanced with AR: Measuring distance between two objects with just a monocular camera.
CAD-based​ and realtimes, VisionLib's Multi Model Tracking enables such AR-enhanced measure and inspections cases.
AR-enhanced Inspections with Digital Twins
Mobile, handheld inspections with Augmented Reality: control and check desired and actual construction states for inconsistencies, missing or wrongly installed parts – already within the prototyping phase.
Model Tracking enables such cases, where visualisation and tracking date can change on the fly.
Get the Tracking SDK and a trial license for Untiy & start developing immeditaley.
For Business Leaders

Make AR happen in your business with our expertise & learn how from our experts.
»XR made with VisionLib« – featured Customer Cases
VisionLib in action: get inspired by customer cases. We are impressed and honored to see, what partners and clients have created using VisionLib.
Spatial Stories & Enhanced Product Experiences
Augmented Products, Augmented Configurations, Augmented Possibilities:
Atelier Markgraph presents enhanced product experiences at their magnificent spatial communication shows and puts Daimler's EQC into a new sight:
to present the novel powertrain technology, to explain vehicle advantages, or to present the various buying options.
AR in Production, Training & Marketing at Daimler
Daimler's IT powerhouser, Daimler Protics, uses Augmented and Mixed Reality on mobile devices and on HoloLens for automotive production, training, and marketing. Powered by VisionLib Tracking, Protics gave deep insights into the challenges they faced and solutions that eased the mixed reality implementation at Unite 2019.
AR-enhanced Assembly & Service in Plant Engineering
Attenio's ioPro aims at nothing less but to revolutionize assembly and service in plant engineering. Committed to the optimization and digitalization of production and service processes in the sense of Industry 4.0, they focus on software solutions, from which mechanics and service technicians benefit in mechanical engineering. Powered by VisionLib's Model Tracking.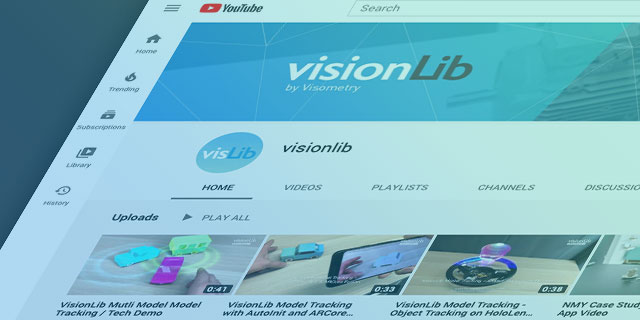 More Inspiration: VisionLib in Tech & Applications
From tech demos, over presenting essential use case, to showing what partners and customers create using VisionLib: AR has arrived at the heart of industries and the potential is incredible. See how it is used