Unique 3D object tracking with VisionLib's enhanced model tracking
VisionLib enables 3D object tracking for first-class augmented reality apps on #computers, #smartphones, #tablets, and mixed-reality headsets like #HoloLens.
Explore AR tracking at industrial scale – register now and get started in minutes at visionlib.com/register
Augmented Reality Tracking at Industrial Scale
AR tracking, fast &
accurate with visionLib's
enhanced model tracking
Model Tracking is industry's lead tracking technology for enterprise augmented reality. Because it enables to detect and track objects, but without the complaints of SLAM feature-maps that don't work well.
VisionLib's enhanced model tracking enables you to use 3D models & CAD data to set up trackers, as they are perfect references for your physical 3D objects.
This tackles not only typical AR problems, like bad light conditions, dynamic scenes, low-textured or moving objects – it also makes the set up of tracking configurations much simpler, because no prior preparation or pre-registration steps are needed.
With VisonLib's Enhanced Model tracking AR is ready to scale. Are you?

Take advantage of VisionLib's model tracking, which enables highly accurate 3D object tracking in dynamic sceneries and illuminations.

The model tracking is easy to set up, without prior registering targets or surroundings: simply use 3D or CAD data to create trackers. Extend model tracking with feature tracking to enhance robustness.

VisionLib's core API is light and slim to easily fit into your software infrastructure – the tracking can be deployed non-tethered as native component on your devices, or run as web service on your cloud.

VisionLib is available as a plug-in for Unity3D and can be used with iOS, Android, Windows and HoloLens. Deploy by Unity3D, or include natively with C and C++ APIs.
Auto-init powers up model tracking with AI: because it liberates from an initial pose to start tracking. Now, track objects from any side, instanlty + immediately, 360 degrees.

Tracking is _the_ essential cornerstone of AR. Imagine, you could track not only one object at a time, but several ones seperately – at once. Meet true multi object tracking.
Precisely measuring the distance between two objects with with an iPad: possbile with Object-to-Object tracking. Essential functionality in AR-enhanced instustrial (inspection) cases.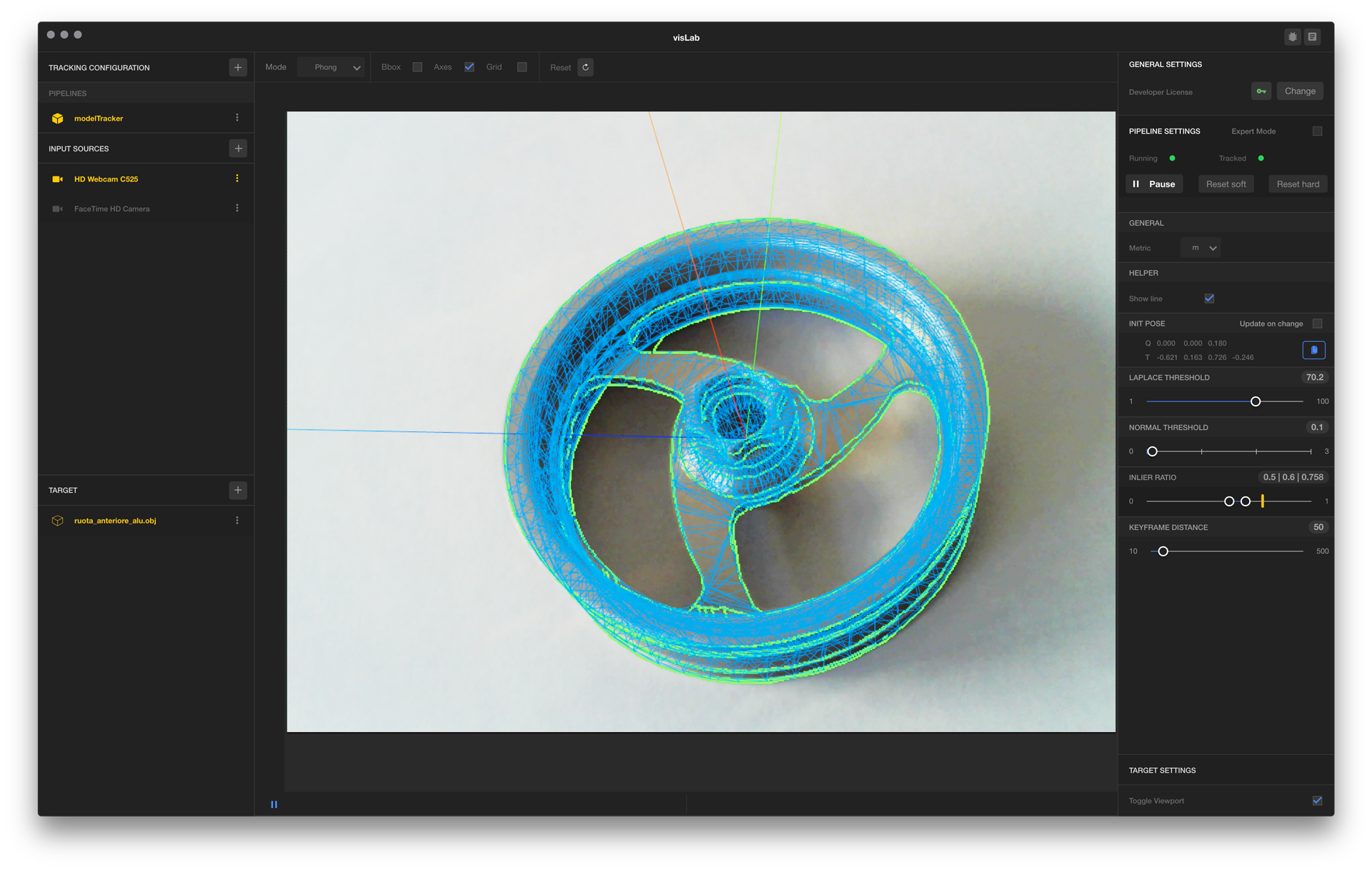 Robust tracking is key: test early & often with our visLab app,  before setting up entire projects, without writing a single line of code. And: Create and use Image sequences of your objects while coding! Why? For quicker, remote #XR development.
Got Curious? Get VisionLib.
The VisionLib tracking with Enhanced Model Tracking is available as SDK.

Apply for a trial. Test and explore VisionLib's AR Tracking. It is cross-platform, cross-device. For native development. Or for for use with Unity3D.

Register now and get access to the documentation, resources, examples, background articles and many more that get you started.
Fast Process: no prior pre-preparation, no pre-registration

transform it as you like & use it for tracking. We support multiple file formats.
developed once, deployed many times: rely on stable & accurate tracking built for use in the field.

take control on key parameters and configure the tracking pipeline at any time.
Tracking is the enabler technology for AR, and VisionLib is the enabler for AR at industrial scale
Take advantage of unique features: distinctive with 3D object tracking, re-useable unlike ad-hoc SLAM, tough when devices shake, robust when light changes, unimpressed when objects move, and resilient when tracking get's lost – and always incredibly precise.
»Most AR marketing-, service- and training cases need more than planar and ad-hoc SLAM tracking. That is why leaders in AR industries should immediately have a look at VisionLib – because we need precise and robust 3D object tracking for those cases.«
HoloLens on a whole new level
HoloLens, one of the best mixed reality headsets available, enables to blend 3D content into our visible environment, making it appear to float in mid-air – just like holograms.
With VisionLib's model tracking, HoloLens gets even better: It brings 3D object tracking to the headset, allowing to superimpose and pin information precisely aligned and connected to objects.
This changes the game: because augmentations aren't just loose holograms anymore, but content in context.