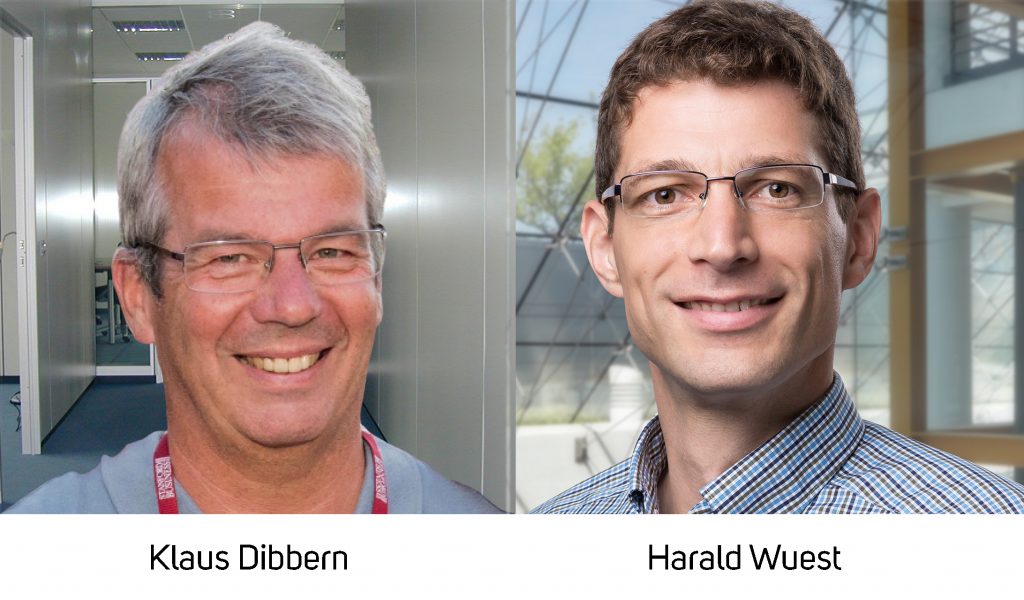 Darmstadt, Feb 9th, 2021 – Visometry, the specialist in augmented reality core technologies and IoT applications, is expanding its management team: Klaus Dibbern assumes the role of CEO, while co-founder Harald Wuest sets his focus on product strategy and vision as CPO (Chief Product Officer).
The initiative to find an experienced CEO came from the founders of the Fraunhofer spin-off. Harald Wuest: "Since we started in 2017, we have built a reputation as an innovative partner to the industry with great expertise in augmented reality (AR) and computer vision. For the next chapters in our growth phase, we are very happy to have Klaus join us."
The "VisionLib" software development kit, which is now used by more than 250 enterprise customers worldwide, is a multi-platform library for industrial AR applications. Based on this core technology, Visometry develops and markets applications for the digitization of quality assurance in the discrete manufacturing industry. Visometry's software solutions lead to a significant reduction of total quality cost.
Klaus Dibbern has more than 25 years of relevant experience in successfully building and scaling companies and organizations. As co-founder and CEO, he has established two startups in the market – a professional services firm for virtual product development (DENC, sold to PTC) and a smart mobility platform (flinc, sold to Daimler). Klaus has extensive business development and sales management expertise from his work at fast growing Silicon Valley and US-based software companies (Rasna and PTC). Most recently, he served as managing director for Europe at Israeli cybertech startup GuardKnox. He has a Ph.D. in mechanical engineering and an MBA from Stanford Graduate School of Business.
"The team's expertise is world class, the market for augmented reality applications in industrial environments is growing fast and Visometry's products provide immediate value for customers. It's the perfect match." said Klaus Dibbern after meeting the team and speaking with enthusiastic representatives of Visometry's customers.
The timing is ideal, since the team is pursuing an exciting roadmap: Based on Visometry's powerful object tracking technology, new software solutions are to take AR-supported inspection tasks and quality assurance to a new level. Image processing will be even more closely integrated with CAD, and a simplified workflow will make AR applications much easier to use.
About Visometry:

Visometry digitizes quality assurance in industrial manufacturing processes through augmented reality object recognition and tracking. As a young startup and Fraunhofer spin-off, the team combines an innovative spirit with many years of R&D experience and deep know-how for augmented reality, computer vision technologies and their application in industry. The VisionLib Engine offers Augmented Reality tracking on an industrial scale: it enables precise 'multi-object tracking' in an automated workflow from CAD to AR. Visometry's products are used from automotive to engineering for AR apps & XR services as well as for production & quality assurance to increase productivity and ensure high quality at low inspection costs. Visometry is backed by investors High-Tech Gründerfonds (HTGF) and Fraunhofer Venture.
(German Version)
Klaus Dibbern wird CEO bei Visometry
Darmstadt, 9. Februar 2021 – Visometry, der Spezialist für Augmented Reality Technologien und Industrie 4.0 Applikationen stellt sich neu auf: Dr. Klaus Dibbern wird CEO, während Mitgründer Dr. Harald Wuest als CPO (Chief Product Officer) seinen Fokus wieder mehr auf Produktstrategie und -entwicklung legen wird.
Die Initiative zur Suche nach einem erfahrenen CEO ging vom Gründerteam des Fraunhofer Spin-Offs selbst aus. Harald Wuest: "Wir haben uns seit der Gründung Ende 2017 einen Namen als innovativer Partner der Industrie mit großer Expertise in Augmented Reality (AR) und Computer Vision gemacht. Für das nun anstehende Wachstum sind wir sehr froh, dass wir Klaus Dibbern für uns gewinnen konnten."
Die inzwischen weltweit von mehr als 250 Kunden eingesetzte "VisionLib" ist eine Multiplattform-Bibliothek für industrielle AR-Anwendungen. Ausgehend von dieser Kerntechnologie entwickelt und vermarktet Visometry Applikationen für die Digitalisierung der Qualitätssicherung in der Fertigungsindustrie, die zu einer signifikanten Reduktion von Prüf- und Fehlerfolgekosten führen.
Klaus Dibbern verfügt über mehr als 25 Jahre relevante Erfahrung im erfolgreichen Aufbau und der Skalierung von Organisationen. Als Gründer und CEO hat er zwei Startups mit aufgebaut: DENC (virtuelle Produktentwicklung, verkauft an PTC) und die Smart Mobility Plattform flinc (verkauft an Daimler). Klaus verfügt über hands-on Expertise in Sales und Business Development durch Rollen im Vertriebsmanagement globaler Softwareanbieter (PTC und Rasna). Zuletzt engagierte er sich als Managing Director Europe des israelischen Cybertech-Startups GuardKnox. Er hat in Maschinenbau promoviert und einen MBA an der Stanford University erworben.
"Das Team ist fachlich auf weltweitem Top-Niveau, der Markt für den produktiven Einsatz von Augmented Reality im industriellen Umfeld entwickelt sich sehr dynamisch und die Visometry Produkte führen zu unmittelbaren Qualitäts- und Produktivitätssteigerungen bei den Kunden. Wenn nicht jetzt, wann dann?" sagte Klaus Dibbern, nachdem er das Team und begeisterte Anwender in einem Workshop kennengelernt hatte.
Der Zeitpunkt ist ideal, denn das Team verfolgt eine spannende Roadmap: Basierend auf den leistungsstarken Objektverfolgungs-Technologien von Visometry sollen neue Softwarelösungen AR-gestützte Inspektionsaufgaben und die Qualitätssicherung auf ein neues Level heben. Die Bildverarbeitung wird noch enger mit CAD verzahnt, und ein vereinfachter Workflow wird die Nutzung von AR-Anwendungen künftig deutlich erleichtern.